Garmin Forerunner 245 music, GPS running, and multisport smartwatch with music and Advanced Dynamics.
You do the running. Forerunner 245 Music thinks for you. It even gets to know you, mile by mile and song by song. This GPS smartwatch has a memory for your favorite music so you can keep moving to the music without having to lug your phone with you. It also records your stats, calculates the numbers, and learns everything about your performance, running shape, training history, and even your goals. All you have to do is focus on putting one foot in front of the other.
GPS smartwatch with advanced music training functions, lens material: Corning Gorilla Glass 3, bezel material: fiber-reinforced polymer, strap material: silicone.
Sync with music streaming services like Spotify to easily save your favorite songs and play them right from your watch.
Evaluate your current training status to show whether you are exercising too little or too much; Provide additional performance monitoring features.
Get free adaptive training plans from Garmin Coach or create your own custom workouts on our online fitness community Garmin Connect
Provides advanced running dynamics including ground contact time compensation, stride length, vertical ratio, and more (when used with Running Dynamics Pod or HRM-Run or HRM-Tri Monitors (sold separately)).
Security and tracking features include event detection (during selected activities), which sends your location to emergency contacts in real-time via your paired compatible smartphone
Battery life: up to 7 days in smartwatch mode; Up to 6 hours in GPS mode with music. Physical size – 42.3 x 42.3 x 12.2 (millimeters). Suitable for wrists with a circumference of 127-204 millimeters. Display size – 1.2 inches (30.4 millimeters) in diameter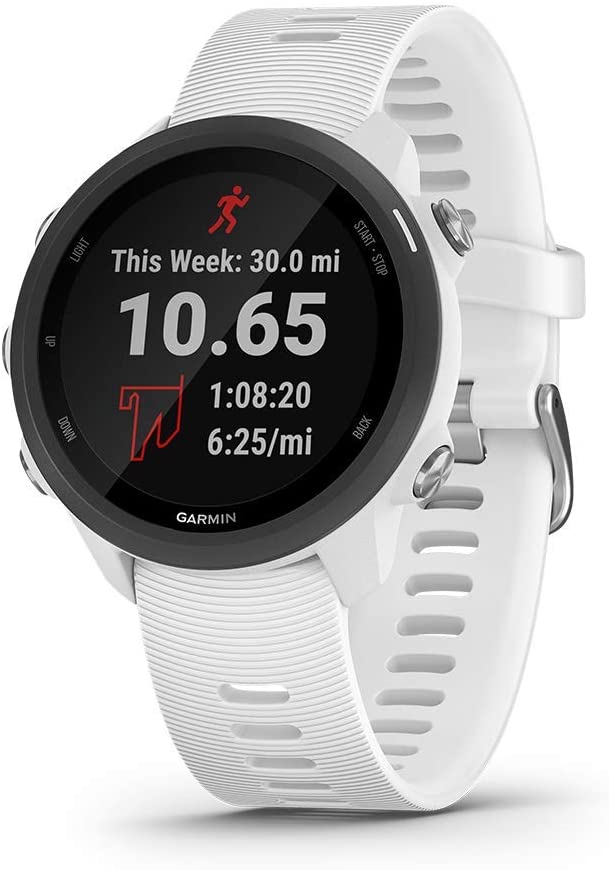 Let the music play
If you can't run without the perfect playlist, you can't run without the Forerunner 245 Music. Sync your carefully compiled playlists from selected music streaming services (requires a premium subscription to a third-party music provider) – such as Deezer and Spotify – with your watch for ad-free listening. You can even save up to 500 songs right on your watch. It's easy to transfer music from your computer and then queue up your favorite playlist for convenient listening through headphones with BLUETOOTH technology.
Advanced performance analysis
Which scope of training is right for you? The Forerunner 245 Music provides personalized training and recovery information to help you make smarter training decisions and prepare for your next race. It monitors your VO2 max and understands how heat and altitude affect your performance. The higher your VO2 max, the higher your performance, and that is exactly what the performance condition metric shows. The training status evaluates your current training history and performance indicators to inform you whether you are training productively, reaching peak values or overwhelming. See how your training affects endurance, speed, and strength development with aerobic and anaerobic training effect feedback. Recovery time helps you maximize the value of your efforts by predicting when you will be ready for your next challenge. You can display your total training load, which measures your training volume over the last 7 days and compares it with the optimal range for your fitness and the current training course.
More ways to exercise
Running is what you do. So train smarter with the tools of our online fitness community Garmin Connect. Create your own custom workouts or download free workouts that sync directly to your watch. With a specific goal in mind for your next 3 miles, check out Garmin Coach. With the guidance of expert trainers and free training plans that adapt to you and your goals, this is a foolproof way to get to the finish line. As part of your training plan, it can even help you predict your race time. What if you want to rearrange it? The Forerunner 245 Music also has activity profiles for biking, swimming in the pool, indoor rowing, and even using the elliptical or stair stepper.
Analyze your running form
The Forerunner 245 Music GPS smartwatch also has the tools you need to improve your running form. The watch measures key running metrics (when used with Running Dynamics Pod or HRM-Run ™ or HRM-Tri™ monitors (sold separately)) such as cadence, stride length, ground contact time and balance, vertical oscillation, and vertical ratio. These measurements are the key to understanding your form, so you can bring your best on every run and at every race. Your Forerunner 245 Music can start tracking these metrics with the addition of a compatible heart rate strap or the compact Running Dynamics Pod, which clips right onto your waistband.
Buy on Amazon