Here are some of the best small business ideas to start in 2023:
Handymen are in high demand, as people are always looking for someone to fix things around their homes. If you have a knack for fixing things, you can start a handyman business and offer your services to homeowners and businesses.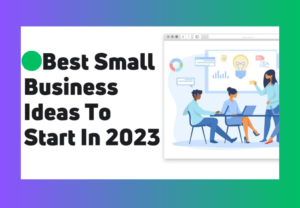 Photography is a great way to capture memories and share them with others. If you have a passion for photography, you can start a photography business and offer your services to individuals, families, and businesses.
Social media management consultant
Social media is a powerful tool that businesses can use to connect with customers and grow their business. If you have experience with social media, you can start a social media management consulting business and help businesses reach their target audience.
The beauty industry is always growing, and there is always a demand for beauty services. If you are skilled in hair, makeup, or nails, you can start a beauty business and offer your services to individuals and businesses.
Housesitting and petsitting
Housesitting and petsitting are great ways to make money while helping others. If you are reliable and trustworthy, you can start a housesitting or petsitting business and help people take care of their homes and pets when they are away.
Virtual assistants provide administrative, technical, or creative assistance to clients from a remote location. If you are organized, efficient, and have good communication skills, you can start a virtual assistant business and help clients with a variety of tasks.
Online courses are a great way to share your knowledge and expertise with others. If you have a skill or knowledge that you can teach, you can create an online course and sell it to people all over the world.
Affiliate marketing is a great way to make money by promoting other people's products or services. If you have a website or blog, you can start an affiliate marketing business and promote products or services that you believe in.
Dropshipping is a great way to start an online business without having to carry any inventory. If you have a knack for marketing and sales, you can start a dropshipping business and sell products from other companies without having to worry about shipping or customer service.
These are just a few of the many great small business ideas that you can start in 2023. With a little hard work and dedication, you can be successful in any business that you choose.
Here are some tips for starting a small business:
Do your research. Before you start any business, it is important to do your research and make sure that there is a demand for your product or service. You should also research your competition and find ways to differentiate yourself.
Create a business plan. A business plan is a roadmap for your business. It should include your goals, strategies, and how you plan to achieve them.
Get funding. Unless you have the money to start your business on your own, you will need to find funding. There are a variety of ways to get funding, including loans, grants, and crowdfunding.
Build a team. No one can start and run a successful business alone. You will need to build a team of talented and dedicated people who share your vision.
Market your business. Once you have your product or service ready, you need to start marketing your business. There are a variety of ways to market your business, including online marketing, print advertising, and public relations.
Provide excellent customer service. Customer service is essential for any business. Make sure that you provide excellent customer service to your customers.
Stay up-to-date. The business world is constantly changing. Make sure that you stay up-to-date on the latest trends and technologies.
Starting a small business is a lot of work, but it can also be very rewarding. If you are willing to put in the hard work, you can achieve your dreams of owning your own business.