Make Money by traveling in the world:
Who doesn't want to travel around the world? Eating various kinds of foods, roaming one place to other places seems like a dream to everyone. But if you want that,  this dream comes true then you have to spend a big amount of money. This is not possible for all.  Now I am going to give you shocking news and that is you can make money by traveling the world.
There are several jobs, companies, organizations which give you cash with Chance of traveling. But this news is not very much known to people. 
This article will guide and inform you which type of job is better for you that offers money and travel in the plant both.so get ready to fulfill your dream.
Top Ten Best Jobs to make money by traveling:
1.Language Teaching job: English has a good demand for several reasons. In the business,  entertainment sectors, many want to learn English for Communication basically.
English is the mother language for the American or most of the European countries. And Asians are not good at English . They want to talk like Amaricans. 
People hire teachers or trainers who will teach him English. Many countries bring language teachers for schools, universities from other countries. It is a good chance to travel around the world and get a handsome salary.
Except English now-a-days people prefer to learn korean, French too.
2. Airlines Jobs: Pilot, Cabin crews have great opportunities to travel one to another country.
Many international airlines hire cabin crews. They  have  good language  skill and communication. However, these jobs are hard but very enjoyable.
Airline companies pay very well. so,  prepare yourself  if you want a job  there.
3.Travel Blogging and make videos for Youtube Channel : We mainly use social media for talk, massage, information and many more. But some are  using  it for earning money also. "Blogging" is a common term of social media where people write and earn money.
You can start to write about your experience of traveling. But in the beginning,   you can not make that much money, you have to wait, search, gain knowledge, and then write about traveling. You can choose any other topics. When people are starting to be happy with your work then it will be profitable for you. The biggest advantage of this job is you can do this anywhere in this world. You just need a device, for example, Android or laptop and network. You may make $70 to $ 30,000 per month if you do good work.
These days, people make videos and submit them to their own Youtube channel. Many traveling channels of Youtube that are very much famous.
Youtube mainly gives profit according to the viewers and likes, subscribes. There are many who make money by making videos just. "Creativity " makes them rich. You need to become a creative person.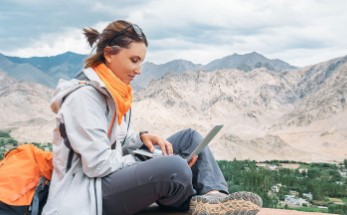 4. Working on a cruise ship and Yachts: Many rich prefer to use cruise ships for parties, enjoy vacation, roaming, relaxation. so, the salary can be good also.
Cruise ships have various categories of job. You can get food, living space with money. 
 Yachts are as same as cruises but mainly top-class elites, celebrities, royals use it most for privacy. Yachts have everything like a five-star hotel. A housekeeper job is the common job here. But they select the good one for the privacy issue.
Just think about it that you get good payment,  can travel, and can meet elite persons. sounds amazing!
5.Photographer: You need two things to become a photographer. Number one is a good skill and number two is a good camera. It will be good for you to do a basic course in photography.
Photos of travel, places have a huge demand. People buy photos that have creative things. So you need mostly creativity,  sense of photography. Not all pictures are good but you can make them good. You should understand what you will capture and what will not.
Mainly magazines, newspapers,Tv channels, social media, websites are the buyers of photos.
The income is huge in this career, it has great demand. As well as a videographer works to make videos and makes money in the same way.
Roaming places, capture various photos and sell them.  It's  price is huge. It's really a dream career.
6. Journalist and Tv show: We see many articles, news, tv shows about traveling. Newspapers, channels just hire journalists. They write articles for a specific page or website. 
Many tv channels like "travels" provide shows on just travels. They give you good payment, a chance to eat in luxurious and popular restaurants,  reserves, the best hotels to stay. Your work is describing the places, foods, and making videos about your experiences for tourists.
But this job is not that easy to get. But by gaining some skills it can be yours.  I recommend this job.
Main journalists have to roam and collect news, information.  Therefore, they travel a lot. Tv channels bear the cost. It's not a simple job because most of the time you will not travel mood, you then just give all attention to news collection. But if you are a travel lover then you will surely make time for you.
7.Courier Jobs: In this decade, a man orders products through the app. Many app and courier service fix people to give the product perfectly to their customers. Many of them have international customers and services.  So they need a man who can do this job honestly. It is a great chance. 
Now, anyone can easily install one single app and can order products. Customers want their products in minimum time. These products are mainly expensive. So, not everyone gets a chance to do the work. However, you get little time to see places but it is comfortable. You can travel by plane which is free, you may get extra cash if the customer becomes happy with your work.
8.Relief, Rescue workers, and summer camp: NGO like brac, organizations like Red Cross, Red Crescent,  UNESCO have workers go to disaster places or upheaval areas where people have not any food, living advantages, even a place to stay. Relief workers go there and provide food, medical, a shelter for living.
Rescue workers are working for accidental, strom areas.
International organizations hire people from various countries according to the Qualification, then train them, prepare them to work physically and mentally. They pay well. Workers can see many places through training and work.
9.Foreign service: Foreign services are mainly included in government jobs. Their work is developing communication,  making deals.  It sounds simple but work is hard. Everyone can not do it. You need higher education, language skills highly.  But if you work hard then it can be yours.
Private companies now open a section on foreign service for gaining profit. You can visit abroad, use  luxury hotels.
10. Become a Travel Agent: After
listening  "Become a Travel Agent", you mark a cross on it. Because you think you need a lot of money. But that is not true. You can start it from your country. At first, you can start it by traveling places near you. Banks give loans also for this business.
About profit, most of the people are wanting to go on tour. But the cost being high if he goes alone. So, they search for travel agents and companies which give low price packages with safety. You have to Maintain the food, safety, the comfort of customers. 
Firstly it will be hard but it is one of the jobs which can make you rich. After some time, you can start your business and make packages of foreign tours for the customers. It's like" kills two birds with one stone".
Now what are you waiting for? Just choose your job and pack your bag for making your dream real.