Doona Infant Car Seat & Latch Base
We bought the Doona Infant Car Seat & Stroller so our expert reporter could thoroughly test and assess it. Keep reading for our entire product report. 
 Getting around in a town with a baby isn't always easy or convenient. Most infant car seats are weighty before the baby is even strapped in, and they generally need to be assembled and disassembled into stroller frames when getting into and out of vehicles. Enter the Doona Infant Car Seat & Stroller, the world's first combination product complete with a completely intertwined trip system.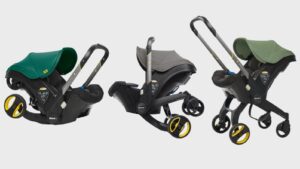 Doona's safe and useful solution allows on-the-go parents to go from car seat to stroller in seconds. No more setting up and breaking down all while hailing a taxicab, and no more schlepping around a heavy car seat. Best of all, no another disturbing a sleeping baby to transfer from car to stroller or vice versa. My 1- month-old son and I took the innovative, journey-ready car seat for a spin to see how accessible it really was.
 The Doona Infant Car Seat is the only car seat on the marketplace that converts into a stroller, making it extremely unique. When in a vehicle, the Doona Infant Car Seat should only be installed rear-facing (as should all car seats for children under age 2, according to current norms). The foothold employs a simple LATCH system, but you can reinstall the seat with a seatbelt as well ( follow the instructions in the user guide). 
In my experience, the reinstallation process got slightly simple with more practice. The Doona achieved comparably to other infant car seats. We applied it primarily without a base so that we could really test the transition from car to stroller ( more on that after). My son sounded secure and comfortable. 
 The one item that's necessary is the weight of the car seat. Due to the integrated stroller frame and wheels, this car seat stroller weighs a whopping16.5 pounds as well. Installing and removing the car seat, which all the while was loaded with my nearly 20-pound 1- time-old son, was kindly emphatic. My arms were surely straining. Luckily, formerly I had the car seat out of the car, this is where the bus came in handy, and I didn't have to carry that weight any further. 
This product actually transitions between three modes car seat ( tone-explicatory), pull-along (handlebar deposited directly above the car seat cover, allowing you to pull the stroller alongside you rather of drive in front of you), and on-the-go ( stroller mode). 
It involves pressing the gyration buttons on both sides of the bar to rotate it into different positions and pushing the red safety cinch button located at the reverse of the car seat to release the bus. 
I plant that the pull-along mode was ideal for maneuvering tight or crowded spaces. I enjoyed being suitable to wheel my son snappily from the car to the house rather than having to carry him in the heavy car seat. 
 In stroller mode, the Doona glided through paved thoroughfares with ease. Still, I did wish I could turn the car seat to face forward during walks. Due to the integrated design, this isn't possible. 
The Doona Infant Car Seat is compatible with children from birth up to 32 elevation or 35 pounds, whichever comes first. My 1- time-old is at the end of the diapason, at around 31 elevation and 20 pounds, so he'll be outgrowing this car seat shortly. Though he sounded comfortable in the seat, his bases were surely hanging over the edge. 
 It doesn't slope or rotate angles in stroller mode, which can be frustrating for a toddler-aged child like mine, who's veritably curious and would prefer to be sitting upright on walks. 
 It seems that you may be suitable to get around one time of use out of this car seat and stroller mongrel, at which point you'll need to upgrade to a convertible car seat with an advanced hinder-facing weight limit. Also, since it's a car seat primarily, it doesn't slope or rotate angles in stroller mode, which can be frustrating for a toddler-aged child like mine. This is surely a more ideal option for a young baby. 
It's satiny, swish, and sports a low profile. I love that it's compact enough to fit outside small buses and on airplanes. 
 The matte watercolor frame is made of sturdy aluminum, while the seat features a bamboo watercolor fiber cloth, which is supposed to be antibacterial, hypoallergenic, and heat-and moisture- regulating. The fabric is also removable and washable, which is a huge plus, as kiddies tend to leave messes wherever they go. 
 An extendable, water-repellant cover offers UPF 50 sun protection and is also removable and washable. The included head support is made of energy-absorbing accouterments and is specifically designed for redundant side impact protection. It's supposed to be installed at all times, which made for a snug fit for my son — nearly a little too snug and constraining for his relish. Still, I would imagine this would be assured for a youngish baby. There's also a removable child insert for babies over 11 pounds. 
Product Link:- https://cutt.ly/ISG33cR