Are you unemployed or don't want to work for someone or do you want to make some extra income to run your family?
Welcome to the world of insurance.
Insurance is one of the important parts of our life. Every Indian has at least one insurance policy and there comes the biggest opportunity.
An opportunity of selling an insurance policy.
They say insurance is never bought but sold.
So you can become an insurance agent and sell the policy to the millions billions of people living in India.
There are dozens of insurance companies in India like ICICI Lombard, TATA AIG, HDFC Life, Bajaj, Aviva, Bharati, Max Life, etc.
But the name that comes on the top of the list is LIC i.e. Life Insurance Corporation.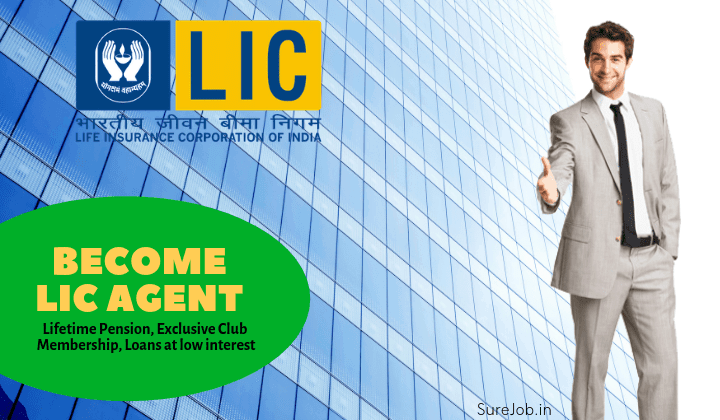 Earning good money is not the only attraction to becoming a LIC agent: you also get an attractive salary, commission, and perks like lifetime pension and membership to exclusive clubs.
You can avail of loans at very low-interest rates from LIC to buy your dream home in the future. You also enjoy the prestige that comes with working for a respectable public sector company.
Yes, working as a LIC agent makes all this possible for you.
So do you want to become a LIC agent? Continue reading.
Who Is LIC Agent?
A LIC agent is a very respected position. A LIC agent is a mediator between an insurance buyer and the LIC who sells insurance. Your role is to sell various insurance policies of LIC to prospective customers.
Currently, LIC offers various types of insurance products like life insurance, health insurance, pension plans, unit-linked plans, etc. It means you will promote these insurance products from LIC within and outside your social circle.
LIC agents are not employees of the company: it is a form of self-employment or business made possible by India's largest public-sector insurer.
If this excites you, go ahead and learn how to become a LIC agent. LIC Agent: Know Exam, Salary,
How to Become a LIC Agent
Becoming a LIC agent is not that difficult. It depends upon your personal skills and aptitude. I will now explain the various steps you need to take to become an agent.
If you have passed your 10th exam and you are above 18, you are eligible to become a LIC agent.
Step-1: LIC Portal
The first and most important to become a LIC agent is to register on the LIC agency website agencycareer.licindia.in
Click on the signup button on the website and provide basic details including your name, village, town, city, locality where you live, mobile number and email address, and your educational qualifications.
While the LIC portal does not ask this, I will recommend you to include a concise summary- 2 or 3 sentences- about the strong reason why you wish to become a LIC agent. This can prove very helpful to the LIC officers processing your application.
There is an offline procedure as well. You can visit your nearest LIC office and meet the local LIC Development Manager. He/she will help you to go through the process.
Also, read these important guidelines before you signup.
LIC Agent: Know Exam, Salary,
Step-2: Pass the Interview
The local Development Officer or Branch Manager at the LIC office will take your interview. Now, remember, it is very important for you to pass this interview and convince the officer about your interest.
You should complete this step, otherwise, there are fewer chances of going ahead with your ambition to become a LIC agent.
There are no fixed questions for which you need to prepare for this interview. The officer will ask you the common questions about yourself, your willingness to join LIC, test your general knowledge and ask you a few questions related to money and finances.
At the same time, unknown to you, the officer will also judge your personality, the way you present yourself, your body language, etiquette, and clarity of speech, among others.
Step-3: Free Training
Once you successfully complete this interview round, the officer will ask you to enroll in a free training course provided by LIC.
Usually, this training will be conducted at a LIC office in your city. If you are living in a town or village, it is necessary for you to travel to the nearest venue where this training is available.
The training course is a 25-hours duration. It is spread over 3 to 4 days. During the training, you will learn everything about the life insurance business, LIC company, and how it works.
You will also learn about the IRDA (Insurance Regulatory and Development Authority of India) and its rules governing life insurance companies.
IRDAI, as the name says, is an organization of the Indian government that regulates the insurance business in this country. Hence, knowing about IRDA is extremely important for working as a LIC agent.
LIC Agent: Know Exam, Salary,
Step-4: Register for Exam
After successfully completing your interview and training, the next step is registering for the Online Agent Mock Test. There are 2 ways of registering for LIC Agent PRT.
Online: Register for exam at LIC India website.
Offline: Register for exam at the nearest LIC branch office.
You can take the help of a LIC Development Officer to register for the Pre Recruitment Test. You will need certain documents to register.
4 passport-size colour photographs.
Photocopy of your 10th or its equivalent or highest education degree mark sheet.
Signed Photocopy of Permanent Account Number (PAN) Card.
A Cancelled Cheque.
If you do not have a bank account, I recommend you open one before applying for LIC Agent Online Agent Mock Test. Get a cheque book from the bank.
Following a judgment by the Supreme Court of India, you don't need an Aadhar Card to open a saving bank account.
Your PAN card will be enough to open a bank account. However, you need to provide a valid address proof like ration card, driver's license, passport or any documents from the state or central government.
Having a PAN card is mandatory. So before applying for the exam for LIC Agent, get one from the Income Tax Department.
LIC Agent: Know Exam, Salary,
Fees for LIC Agent Exam
According to the LIC official website, fees for online registration are higher than for offline registration. The fee structure is as follows.
Online Registration & Exam
Registration Fee: Rs.150.
Online Training Fee: Rs.150.
Study Material/ Book: Rs.200.
Pre Recruitment Test (Online) fee: Rs.500.
Total: Rs.1,000.
When you register online, you will get a Unique Reference Number (URN) and password. Keep the URN a safe place. You can change the password to recall it better.
Offline Registration & Exam
Registration Fee: Rs.150.
Study Material/ Book: Rs.200.
Pre Recruitment Test (Offline) Fee: Rs.500.
Total: Rs.850.
Dates of LIC Exam
There are no specified dates on which IRDAI conducts Pre Recruitment Tests for aspiring LIC agents. However, once you signup for the exam, LIC will inform you about the exam dates and venues.
Remember, it is better to log in to the website and check the dates regularly if you are registered online. The LIC website carries important news about exams.
If you have registered offline through a LIC DO or at the LIC branch office, stay in touch with him/her to know about the upcoming exams.
LIC Agent: Know Exam, Salary,
LIC Exam Hall Ticket
Offline applicants for the LIC agent exam can collect their exam hall tickets by visiting the nearest LIC office. The hall ticket has to be attested by a senior LIC officer.
For online applicants, the hall ticket for the exam will be available for download on the website.
Studying for LIC Agent Exam
Studying for the LIC agent exam – also called the LIC agent Pre Recruitment Test is very simple. Just visit the Insurance Institute of India (III) and download the study material. You need to download this from the LIC website.
Also, read newspapers, finance websites, and magazines to sharpen your general knowledge.
LIC Agent Exam Syllabus
The LIC syllabus consists of English and Hindi languages as well as some basic mathematics, aptitude, and general knowledge.
It also covers various rules, regulations, and laws governing the life insurance business in India.  These laws are made and governed by IRDAI.
You have to finish at least 100 hours of studies before appearing for the LIC agent exam or the Pre-recruitment Test.
LIC Agent Exam
Now we come to the examination itself. As I explained earlier, this exam is called Pre Recruitment Test. Others call it the LIC agent's exam.
This exam is of 1 hour duration.
You will be provided with 50 questions.
These questions include objective type- meaning you have to select the right answer from the given choices.
Each question is worth 1 mark. It means, the entire exam is for 50 marks.
You need to score at least 18 marks in this exam to qualify for working as an agent. The more marks you score, the better.
Become LIC Agent
Upon successfully completing the exam, you are ready to become a LIC agent. LIC will provide an appointment letter designating you as their authorized agent. You will also receive a license from IRDAI to perform your duties as a LIC agent.
Remember, you can't become a LIC agent with just an appointment letter from the LIC. You also require the insurance agency license from IRDAI before getting into this profession.
LIC Agent Commission Chart & Salary
Now you know how to become a LIC agent, let us check the potential of money you can make as a LIC agent.
You get a commission of 35% of premium paid during the first year by policy holders.
If you work harder and sell more LIC polices, you can get up to 40% bonus on first year commission. There are other terms and conditions too.
Retirement benefits or gratuity up to Rs 2 lacs will be given if you complete business guarantee of at least 15 years. This means LIC will receive premiums from policy holders who you sold insurance for the next 15 years after you retire.
Hereditary Benefits are available to the families if the LIC agent dies for any reason. To qualify for this, LIC agents must have sold insurance policies worth Rs. 1 lac in premium before his/her death. Hereditary Benefits are given to nominee or legal heirs of the LIC agent.
If you have generated a business worth Rs. 2 lacs and stop working for LIC or lose agency for any reason, the company will continue to pay its commission.
Your income grows automatically because of selling more LIC life insurance policies when you work as a LIC agent. There are no upper limits to your income. Many people earns in millions.
During the next two years (2nd and 3rd year) of selling an insurance policy, you will receive a commission at the rate of 7.5% of total annual premium that a LIC life insurance policy holder pays.
From 4th year, you will get 5% of the annual commission paid to LIC by the person whose life you have insured.
LIC provides complimentary life insurance cover for all its agents. Meaning, their families will receive insurance payout due to the premature death of an LIC agent.
Here is the LIC Agent Commission Chart that will give you a fair idea of how much can you make as a LIC agent.