How to Make a Career in Sports Psychology: Sports psychology focuses on helping professional athletes achieve performance and the psychological benefits of the sport and other amateur athletes. Have an excellent career as a sports psychologist. Learn more about the jobs, salaries and degrees needed to build a career.
By
22 March 2022
Read for 5 minutes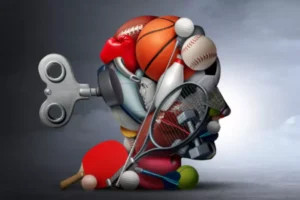 Sports Psychology
India has won several medals at the Olympics, won the ICC Cricket World Cup twice and is now promoting other sports like football, kabaddi and hockey.
If you read the news every day, you must have heard some Indian athletes mark or record a game.
Of course, you will believe that athletes have practiced repeatedly to win the tournament. That's right.
Players always practice hard in tournaments. However, there is a hidden truth that you may be unaware of.
And that's sports psychology. All professional sports athletes have a sports psychologist to guide them on how to prepare mentally for the competition even if they are physically and mentally healthy.
There is a reason why every athlete needs a sports psychologist. Generally, athletes are mentally prepared for the best performance before entering the competition.
That's where sports psychologists come in.
The role of sports psychologists
What is a sports psychologist? Simply put, a sports psychologist is an expert who helps athletes to be mentally prepared to compete in a competition.
Because physical fitness alone is not enough to win a big tournament. Athletes need to be mentally prepared to deal with their opponents and defeat them in the game to win.
Sports psychologists do various things to help players achieve that perfect state of mind before entering any competition.
They analyze the mental and emotional state of the athletes and help them increase their confidence level for the tournament.
They do this through counseling sessions, therapy, mindfulness exercises and in some cases medication. Because every athlete feels anxious or worried while preparing for the big game.
Workplace for sports psychologists
Now that you know the importance of a sports psychologist for a sports personality, it's normal to find out where they work. Typically, sports psychologists work with associations and clubs that specialize in sports.
For example, the Board of Control for Cricket in India (BCCI) also employs sports psychologists to help Indian cricketers mentally prepare for various matches and big games like the ICC Cricket World Cup.
Nowadays, with the growing popularity of sports in India and the demand for mushrooming training across the country, many training institutes also employ sports psychologists. Because a match is won mentally first before it is won physically.
These organizations prepare their students to win matches and provide the assistance of a sports psychologist to help them overcome the grief of losing a competition.
Preparing for a career in sports psychology
The above information will dispel any doubts about the role and importance of a sports psychologist, to both an athlete and a sportsman. Therefore, if you are interested in becoming a sports psychologist, here are ways to do it.
Undergraduate and postgraduate in psychology
To get started, you need to have a bachelor's or master's degree in science from any reputed college or university in India as a first step to become a sports psychologist.
You can do this after your Higher Secondary Certificate (HSC) or its equivalent.
Alternatively, you can pursue a medical degree, such as a Bachelor of Medicine and a Bachelor of Surgery (MBBS) from an excellent medical school, study for four years and choose to become a Doctor of Medicine (MD) in Psychiatry.
However, just a bachelor's degree such as a BA or BSc in psychology will not help you.
Therefore, you need to continue your studies and have a Master of Arts or Master of Science in Psychology with Sports Psychology as your main subject. In addition, you may choose to pursue a Doctor of Philosophy in Sports Psychology to enhance your career prospects.
Internship as a counselor
The second step after getting your postgraduate degree or doctorate is to work in sports as an intern and gain skills in how to advise people. One of the greatest skills of sports psychologists is emotional intelligence.
Because it will help you to assess a person's mental state at any time and especially when they are attending a counseling session.
You can look for internships as a sports psychologist at various sports clubs and associations. This will give you enough skills to work for a larger organization as a sports psychologist.
Here, it is worth remembering that athletes think on a completely different plane than the average person. Because they are mentally preparing to win the match and at the same time have to face any defeat or adverse outcome.
Become a member of AASP
Once you have the required degree and some experience as an intern, apply for membership of the Association for Applied Sport Psychology (AASP).
AASP is an international organization. They provide certification to qualified psychologists to work as sports psychologists.
Psychologists in India and abroad. Usually, and as a rule, sports organizations only hire individuals who hold AASP certification in addition to a master's degree in psychology or psychiatry.
Career prospects for sports psychologists
If you are an avid follower of sports in India, it will be very clear that the country is now promoting a variety of sports.
The focus has shifted somewhat from the earlier foundations of cricket. Instead, India is now actively promoting participation in football, hockey, kabaddi and other sports.
Also, there are many sports like athletics where Indian athletes compete at regional and international level including the prestigious Olympics. Therefore, there is a huge demand for sports psychologists in India.
In fact, government agencies related to sports as well as large organizations and clubs hire sports psychologists from foreign countries as there are not enough qualified and skilled people in India to fill these vacancies.