Before I show you how to earn money from YouTube, here are some interesting bits of trivia about YouTube, the world's most popular video-sharing online website.
On average, over 300 hours of video are uploaded onto YouTube, – every minute
YouTube has over a billion users & each day those users watch a billion hours of video.
YouTube was ranked as the 2nd most popular site by Alexa Internet.
6 out of 10 people prefer YouTube & other online video platforms to live TV.
YouTube is also the world's 2nd largest search engine (after Google) and the 3rd most visited site on the internet.
Amazing isn't it? It's also one of the many reasons this Google-owned online video platform has been such a darling of advertisers since they started accepting ads in 2007.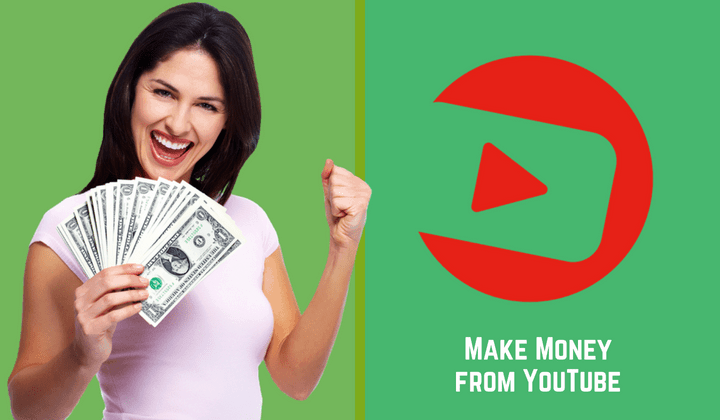 How much money can you make from YouTube?
In one word – EXCELLENT. Sample this, the reputed Wall Street Journal newspaper had once reported that PewDiePie, which is a popular albeit controversial YouTube channel, made an estimated USD 4 Million in 2013 alone.
Charlie Bit My Finger, a simple 55-second video is making more than a million dollars per month.
Popular YouTubers like AIB, Nisha Madhulika, Bhuvan Bam, and Technical Guruji are making millions every month. Even many small YouTubers make lots of money from YouTube.
Now think about it – wouldn't it be great if you could earn money from YouTube; even 1 percent of this amount, by starting your own channel on YouTube?
Hmmm… food for thought, isn't it?
How to Earn Money from YouTube
So here are the exact steps you need to make money from YouTube-
Start Your YouTube Channel
Create Videos
Upload Videos
Apply for YouTube Partnership
Make money from Your Videos
1. Start your YouTube channel
It's not rocket science really. All you need to do is…
Go to YouTube and signup with your Gmail account.
Once done, click on the bar in the left corner beside the YouTube logo.
So far so good, now gently click on My Channels (from the drop-down menu).
You will see a box appear with your name highlighted and the heading – Set up your channel on YouTube. Select it.
And now for the last step. Just update your channel with your relevant personal info – and VOILA! You are good to go…
2. Create Videos
For a beginner, the easiest (and cheapest) way to create a video would be via your smartphone or your PC webcam. To be fair, it's an excellent option for freshers in the initial days when you're still finding your way around, not earning any money from YouTube (videos), and have a limited supply of cash.
However, there will come a time when you will need to invest in a Good Webcam and when your channel starts making some money – Hire a Professional Videographer.
Other than a camera you need the following things to make your videos-
Tripod
Good Microphone
Screen Recorder
Video and Audio Editing Tools